The Town of Wescott Recycling center is located at the end of Curt Black Road and open on Saturdays from 8:00 a.m. until 4:00 p.m.  The following items are accepted at the Wescott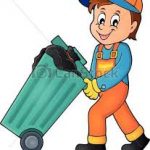 Recycling Center: Household Garbage & Recycling, Metal, Appliances (stoves, refrigerators, etc), Oil, Batteries, Electronics (for a fee), Tires (for a fee), Carpeting (cut into 4′ x 4′ rolls), Antifreeze & Fluorescent Light Bulbs.  
Not accepted at the Recycling Center is: Wood, Building Materials, Liquid Chemicals, Large pieces of carpet, Black Garbage Bags, Paints / Stains & Ashes.
No Commercial Loads will be accepted !  All loads may be accepted or denied at the discretion of the site operator.  The Recycling Center is open to Wescott Residents Only.  Violators will be reported and fined !